QUALITY TAKES TIME
By honing in on specific details and keeping your personal style in mind, our quality custom garments take time to perfect. We take the time to get to know our client's assessing their lifestyle, personality, and physical profile to create one-of-a-kind pieces that are truly inspired by their individual style.
Kindly allow a period of 6-8 weeks for the completion of your bespoke garment if you are a first-time patron. This additional time is imperative to infuse an extra touch of refinement into your attire, ensuring it is truly exceptional.
Personalized patterns are hand-cut for each garment; individual measurements and patterns are maintained.
Fabric for each garment is individually cut by hand.
A full horse-hair canvas is hand-based into each garment.
Both the top- and under-collar are felled by hand.
Shoulder straps are felled by hand.
Arm scyes are sewn by hand.
Lapels are felled and shaped by hand.
Gorges are stitched by hand.
Bemberg linings are employed exclusively.
The garment is pressed at key intervals through its make, by hand.
Buttonholes are finished by hand, including surgeon's cuffs and boutonniere, with silk thread for the flower stem for each client.
All of the steps in our process result in the achievement of a softer garment, a garment that molds itself to the body. With the passage of time, the garment grows to fit even better; as it gets worn, the more it shapes itself to the body's contours.
Getting to Know the Client
Profiling the client is the first step we take in providing clients with a unique and enjoyable experience that provides them with clothing tailored to their individual styles and interests.
When we sit down with a new client, we begin with the research process. We learn about the client's lifestyle, the type of business or industry he is in, his social activities, and how much he may travel for business or pleasure. These aren't just bulleted questions aimed at the client; rather, they are conversation pieces that aid us in completely knowing and understanding the client and his overall needs. This information is necessary for selecting fabric, prints, colors, and determining silhouettes.
Getting to know the client helps Martinez Custom Clothier integrate our expertise with the lifestyle and personality of our client. These conversations also allow us to build genuine relationships with clients to deliver the highest quality custom clothing experience possible.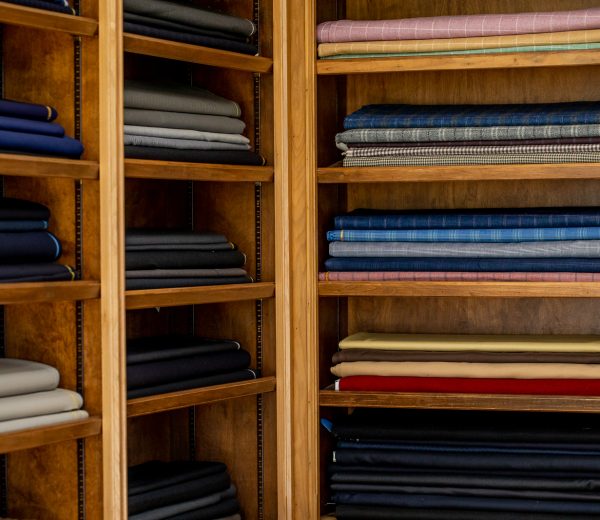 Physical Profile
During this step in our process, we also conduct an extensive analysis of the client's physical profile. This profile includes the shape of the face, posture, height, and build. This technique of personally profiling the client is the defining difference in Martinez Custom Clothier's custom apparel.
Fabric Selection
Based on our client's complexion, we decide whether we are working with a warm or a cool palette. We then begin the selection process. We also discover the client's likes and dislikes for the feel and weight of fabrics. This aids us in the final selection of patterns, fabric weights, and colors.
Measurements
Once we have an understanding of what the client is looking for and what works best for the client, we then begin measuring. Each piece of clothing requires a specific set of measurements that will make their new wardrobe completely custom for the client.
Design Process
While our conceptual design process begins from the moment our client walks through the door, the artistic and technical design of the wardrobe is not begun until we have created a personal profile for the client's lifestyle and physique, have selected the appropriate fabrics, and have obtained measurements.
We offer the client a recommendation of styles to fit his physical profile during the initial consultation. Once the client has chosen from the various style options, we then customize a pattern, and begin the creation of the clothing.