Martinez Custom Clothier Through the Years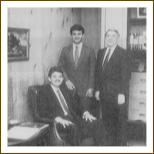 Upon completion of his undergraduate studies in his pursuit of becoming a veterinarian, Manuel realized that he was denying himself his passion–clothing design. So Manuel changed direction, and our history began. He moved to New York to study design and follow his lifelong dream. He later moved to Houston to work under a custom tailor. In 1983, Manuel joined the Custom Tailor and Designer's Association and quickly earned his certificate of Wardrobe Consultant from Clothing Science, Inc. in 1984. That same year, Manuel branched and opened his first store in Baton Rouge, Martinez Custom Clothier, on Jefferson Hwy. Within two years of opening his own company, Manuel was bestowed two great honors: he was elected to the Board of Directors from the CTDA, and he was recognized as "Up and Coming Tailor in the American Market" by Made to Measure magazine.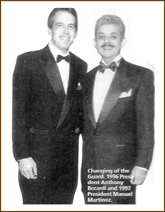 In 1994, Martinez Custom Clothier was recognized in the city of Baton Rouge, Louisiana, as "a destination for businessmen to get custom clothing which offers great fit and the right look" by The Advocate newspaper. In 1995, MCC was mentioned in the Cigar Aficionado article, "Tailors in the Office," for an "elegant English silhouette with medium square shoulders", and in that same year, Manuel was awarded top design of a double-breasted suit at CTDA's annual convention. Manuel won "Best of Color" and "Best of Design" awards for sportswear, and "Best of Topcoats" at the annual CTDA convention in 1996. In 1997 he was elected the president of CTDA. Between 1998 and 1999, Martinez Custom Clothier was written up in Private Clubs magazine for being mystified with fashion, evoking romanticism and old-fashion style service, as well as The Wall Street Journal for corporate casual designs. The years of success in its history produced such growth that in 1999, Martinez Custom Clothier opened its Corporate Boulevard showroom in Baton Rouge's elite shopping district.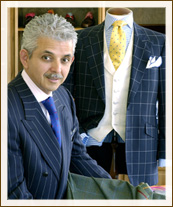 The year 2001 was a busy year for Martinez Custom Clothier. Manuel received the great honor of representing the U.S. at the World Congress of Tailors in Paris, France. His design of a classic blue suit was chosen above all other U.S. tailors to be shown at the congress. It seemed only natural that he would also be named "Best Dressed Man" in the city of Baton Rouge. In 2002, Manuel Martinez received the Certificate of Master Clothing Designer from CTDA, and was recognized in The Robb Report as one of the Top Ten tailors in the U.S. Martinez Custom Clothier was again highly publicized in 2003 when American Way magazine named MCC "one of the top five custom clothiers in the U.S." in their article "Your Personal Fashion Police", and The Robb Report recognized them again as "one of the U.S.'s leading personal wardrobers." Martinez Custom Clothiers was again honored to represent the U.S. at the World Congress of Tailors in Italy with a white dinner jacket and tails in that same year. Martinez Custom Clothier again made history and was honored with international recognition and awards in 2005. First, Manuel Martinez swept the CTDA convention, winning "Best of Show," "Best of Color," "Best of Style."